Terminate a Student
A terminated record in the Student and Exchange Visitor Information System (SEVIS) means the nonimmigrant no longer maintains F or M status. Designated school officials (DSOs) mostly terminate F-1/M-1 students and/or F-2/M-2 dependents who do not maintain their status. However, termination is not always negative. DSOs can terminate records for a number of normal, administrative reasons.
 Prior to terminating a record be sure:

Termination is the proper action to take.
To use the right termination reason.

It is possible to terminate F-2 or M-2 records independently of their primary F-1 or M-1 student.
 For more information on SEVIS terminations, see SEVIS Help Hub articles:
 When an F-1/M-1 SEVIS record is terminated, the following happens:

Student loses all on- and/or off-campus employment authorization.
Student cannot re-enter the United States on the terminated SEVIS record.
Immigration and Customs Enforcement (ICE) agents may investigate to confirm the departure of the student.
Any associated F-2 or M-2 dependent records are terminated.
Grace Periods after a Termination
Depending on the termination reason, there may be a grace period during which a student and dependents must depart the United States or apply for reinstatement.
Termination Reason
Duration of Status
Termination for any violation of status

No grace period.
If the student and dependents are still in the United States, the student must either apply for reinstatement, or the student and dependents must leave the United States immediately.

Authorized Early Withdrawal

Student and any accompanying dependents must leave the United States within 15 days of termination date.

Important Note: This grace period only applies to F-1 students and their dependents. It does not apply to M- 1/M- 2 students and dependents.

Change of Status Approved

Student F 1/M 1 status ends and student enters newly authorized immigration status.
Student must follow the authorized stay requirements of the new immigration status.

Change of Status Denied

Nonimmigrant requests a change of status (COS) to F 1 or M 1 and is denied.
If the nonimmigrant has maintained the current status while the COS to F/M was pending, he remains in previous nonimmigrant status and must follow the authorized stay requirements of that status.
Preparation for Departure 8 CFR 214.2(f)(5)(iv)
Termination versus Other End of Program Actions
The table below lists the program ending actions and when a DSO should use them:
Action
Use It When
Cancel Initial Record
 

The record is in Initial status.
The student has not/will not use the Initial Attendance 

Form I-20 to enter the United States.

Note: This cancels all associated dependent records.

Complete Program

The record is Active.
The student has both:

Graduated or completed his/her course of study
Left or plans to leave the United States in the immediate future.

Shorten Program

The record is Active.
The student will finish the program earlier than the current program end date in the record.

Terminate Record

The record is in Initial or Active status.
The student did not maintain F/M status per regulations.

Important Note: A DSO can manually terminate a canceled record, but the action will show as a correction in event history.
Terminate a Student Record
To terminate a record in Initial or Active status:
1. Go to the Student Information page.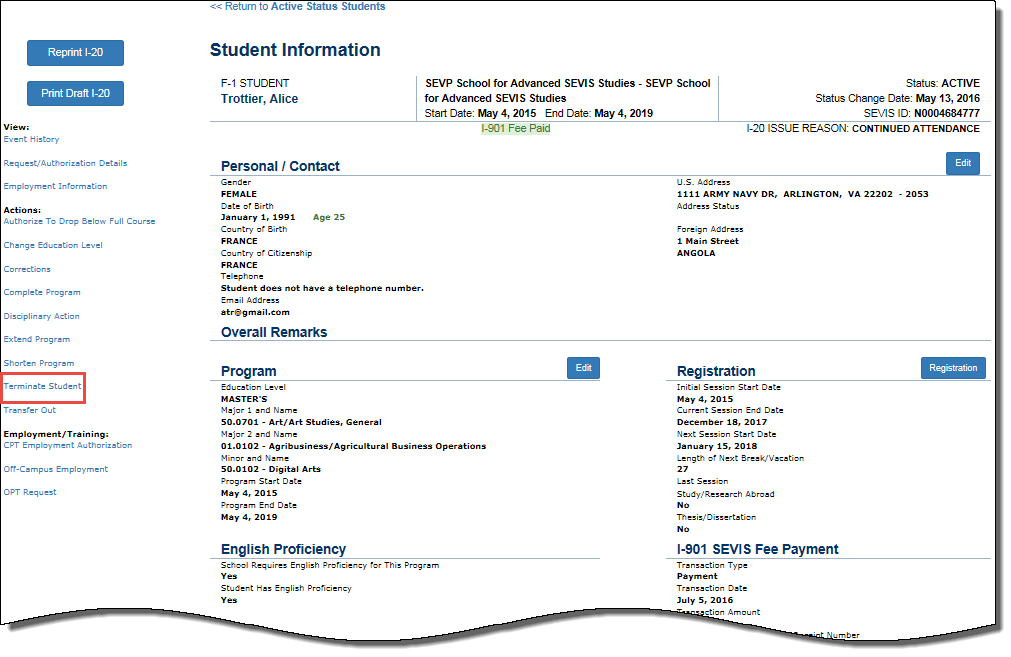 2. Click Terminate Student. The Terminate Student page opens.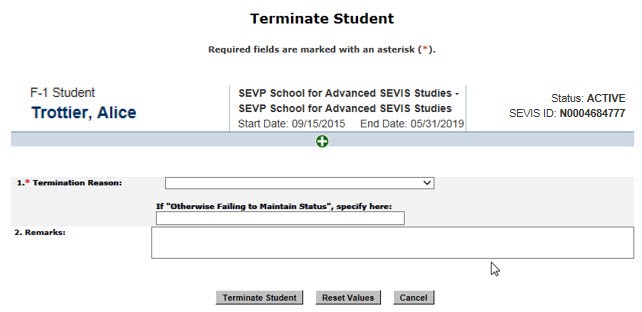 Note: You cannot terminate the Initial record of a student, who is requesting a change of education level, if the previous record is still Active. In this case, from the Student Information page you must: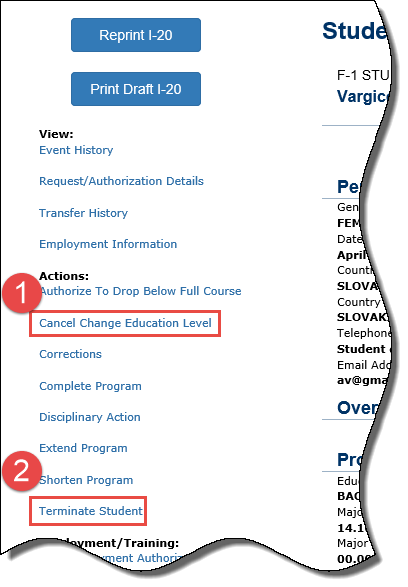 3. Select a Termination Reason from the drop-down list. 
Absent from Country for Five Months
Authorized Drop Below Full Course Time Exceeded
Authorized Early Withdrawal
Change of Status Approved
Change of Status Denied
Change of Status Withdrawn
Death
Denied Transfer
Expulsion
Extension Denied
Failure to Enroll
Failure to Report While on OPT
No Show – Manual Termination
Otherwise Failing to Maintain Status: If you select this termination reason, enter an explanation in the text box provided.
School Withdrawn
 DSOs should never use the termination reason "School Withdrawn." SEVP uses this reason when it terminates a student record when a school loses SEVP certification and is withdrawn by SEVP.
Suspension
Transfer Student No Show
Transfer Withdrawn
Unauthorized Drop Below Full Course
Unauthorized Employment
Unauthorized Withdrawal
Violation of Change of Status Requirements
 See Student Termination Reasons Available in SEVIS to DSOs in SEVIS Help Hub Termination Reasons article for a detailed description of the termination reasons.
4. Enter any optional comments in the Remarks field. This field has a 1,000-character limit.
 Comments entered in the Remarks field will overwrite existing remarks on page one of the printed Form I-20.
5. Click one of the following:
Terminate Student: Terminates the student. A Confirm page opens.

Click No to cancel the action and return to the Student Information page.
Click Yes to proceed with the student's termination. An Update Successful page opens.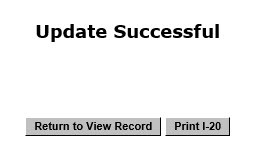 Click Return to View Record to view the Student Information page.
Click Print I-20 to print a copy of the student's Form I-20.
Reset Values: Clears all fields on the page.
Cancel: Cancels the termination action and return to the Student Information page.
Manage Terminated Records
You may need to take one of the following actions on terminated SEVIS records:
 

 
Create a new Form I-20 for initial attendance if the student violated status and will regain status by leaving the United States and re-entering on a new Form I-20.
 Regaining status through travel will restart that student's F-1 or M-1 status and benefits clock over again.

Note: You must create a new SEVIS record, and the student must pay the I 901 SEVIS fee again.
See the SEVIS Help Icons on the SEVIS Help Hub for a quick-reference of the icons used in this user guide.