Student Report for School Officials
The Student Report for School Officials allows designated school officials (DSOs) to download a file of F-1 or M-1 students that include most of the information in the student's SEVIS record.
To run the report:
Choose a school campus.
Chose one SEVIS status:


Initial
Active
Canceled
Completed
Deactivated
Terminated
The report:
Contains the SEVIS information listed by sortable columns.
Can be exported into CSV or Excel spreadsheet format.
Can be combined with other reports to include all or any combination of:


Campuses at a school
Student SEVIS statuses
SEVIS information
This report appears on the SEVIS Downloads page.
For more information on finding and opening SEVIS downloads, see the SEVIS Downloads guide on the SEVIS Help Hub.
For more information on SEVIS fields, see the SEVIS Fields Job Aid on the SEVIS Help Hub.
The Student Report for School Officials contains the following SEVIS student record fields:
SEVIS ID
NonImm ID
FIN ID
SEVIS Status
Status Change Date
Class of Admission
Surname/Primary Name
Given Name
Suffix
Preferred Name
SEVIS Legacy Name
SEVIS Legacy Middle Name
SEVIS Legacy Last Name
Date of Birth
Country of Citizenship
Gender
US Physical Address
US Mailing Address
Foreign Address
Email Address
U.S. Telephone
No Phone Indicator
Foreign Telephone
Number of Months
Passport Name
Passport Number
Passport Expiration Date
Passport Country of Issuance
Visa Number
Visa Issuance Date
Visa Expiration Date
Visa Issuance Post
Port of Entry
Date of Entry
I-94 Admission Number
Port of Departure
Date of Departure
Tuition Fees
Living Expenses
Dependent Expenses
Other Costs and Comments
Student's Personal Funds
Funds from this School
School Fund Type
Source Type
On-Campus Employment
Date of Last Event
Termination Reason
School Name
School ID
Campus Code
Campus Name
I-20 Issue Reason
Education Level
Major 1
Major 2
Minor
Program Start Date
Program End Date
Normal Length of Stay
Initial Session Start Date
Next Session Start Date
Last Session
Study/Research Abroad
Thesis/Dissertation
Authorized Drop Below Full Course
Student Has English Proficiency
Remarks
CPT – Requested
CPT – Approved
OPT – Requested
OPT – Approved
STEM OPT – Requested
STEM OPT – Approved
Cap Gap Extended
Student Requested Reinstatement
Student Change of Status Request
Student Transfer out
I-901 Paid
Fee Payment Receipt Number
Border Commuter Student
Correction Request Pending
Cancellation Reason
Overall Remarks
Length of Next Break
OPT Portal
To access the report:
Navigate to the SEVIS Listing of Schools page.
Click the radio button for the desired school.
  3. Click Downloads. The SEVIS Downloads page opens.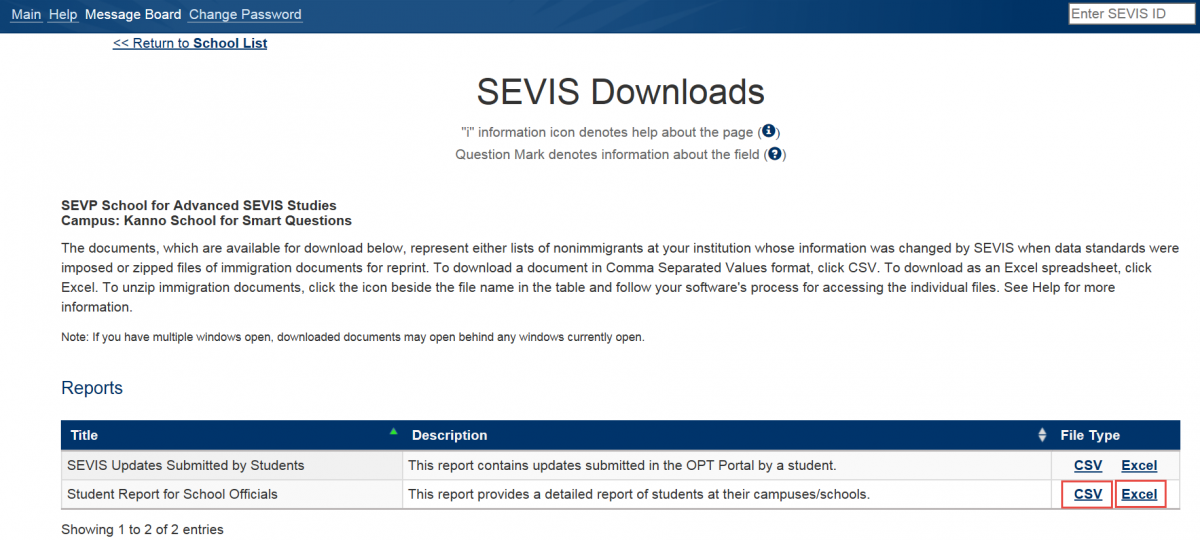 4. Click the CSV (comma-separated values) or Excel File Type on the Student Report for School Officials row. The Download Report modal opens.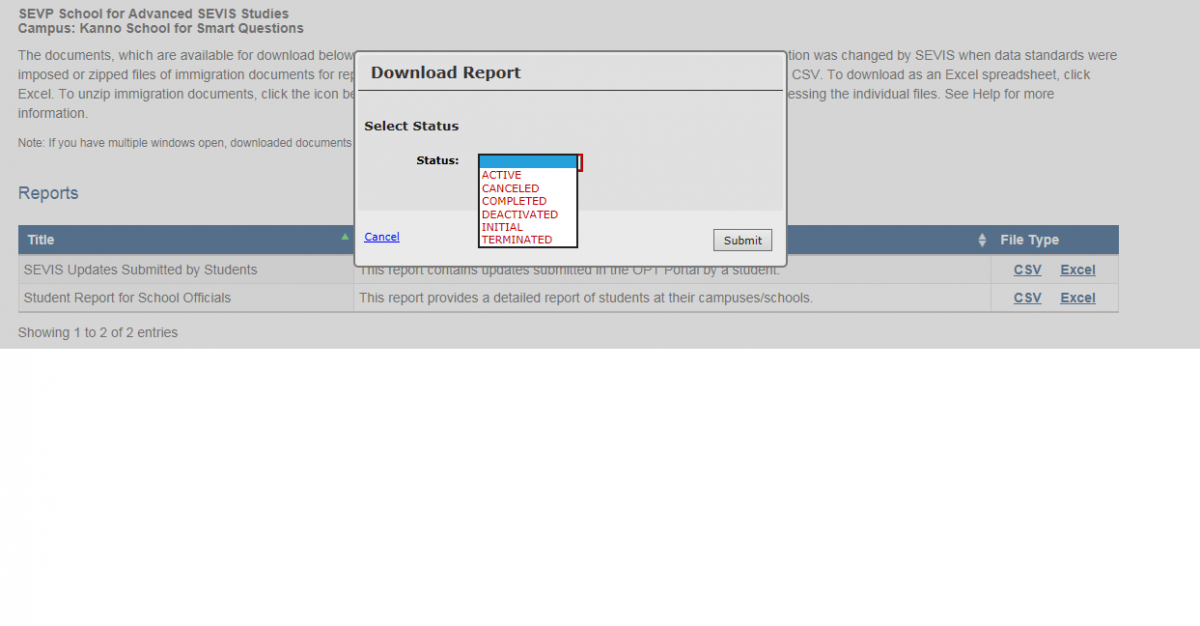 5.      Click the Status drop-down arrow to select the Status of students to view.
  6.      Click Submit. Microsoft Excel provides the option to Open or Save the report.

  7. Use Microsoft Excel functionality to view and save the information. 
Modify the Excel file by hiding or deleting unwanted columns and/or save for later use on your local computer by clicking the Enable Editing button at the top of the page.
See the SEVIS Help Icons on the SEVIS Help Hub for a quick-reference of the icons used in this user guide.