Elements of SEVIS Pages
Quick Links:
This article explains the page components and functions that may be available on the Student and Exchange Visitor Information System (SEVIS) pages, depending on the status of the student or the school.
To access the SEVIS pages:
1. Go to the SEVIS Sign In page at https://egov.ice.gov/sevis/.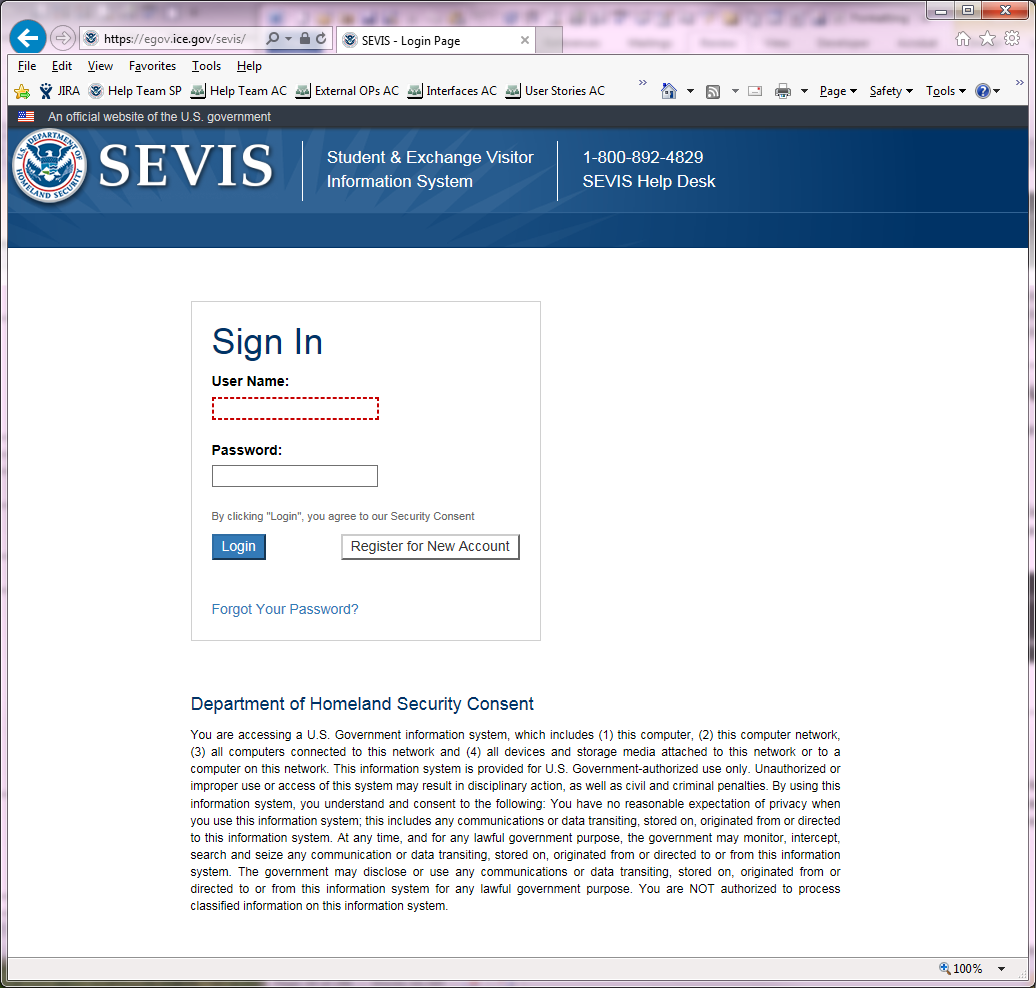 2. Log in to SEVIS to the Listing of Schools page.
 If you have access to more than one school/campus, when you log in all schools will be listed on the Main page, which is titled Listing of Schools. Also, if you are authorized as both a school official and a program sponsor official, you will first be directed to a page that has two links: Listing of Schools and Listing of Programs. You would then click the Listing of Schools link to access the Listing of Schools page, which lists all schools and/or campuses to which you are assigned.

 See SEVIS Help Hub article, Log In and Out of SEVIS, for more details.
Additional page components, which are standard windows functionality, display on some SEVIS pages.
They include:
Scroll Bar: The part of a window that enables you to see additional information on the page. SEVIS uses scroll bars on the bottom and/or the right side of some windows to navigate to a different part of a large page.
Fields: Areas on the page where data may be typed or selected, or in which system-generated data display.
Links: Underlined text that advances to a different page within SEVIS.
Buttons: These allow you to process data and move between pages. For example:

Print I-17: Enables you to print a copy of the Form I 17.
Save: Enables you to save the data entered SEVIS.
Cancel: Ends the process you are working on without saving the data.

Other Input Methods:

Radio Buttons: Click to select. Only one radio button may be selected at a time.
Check Boxes: Click to make one or more selections.
Drop-Down Lists: Click the down arrow to display a list, and then select.
Many SEVIS pages allow a user to expand or collapse part of the page to hide or display more information. Use the expand and collapse icons to change the views.
| Icon | Purpose |
| --- | --- |
| Expand Icon | Expands the section to display additional information, if available. |
| Collapse Icon | Close the section to hides additional information. |
Expanded View
When opening a SEVIS action page, an expanded view of the nonimmigrant's personal information may display.
To hide the nonimmigrant's personal information, click the red, collapse icon to close the section.
Collapsed View
In the collapsed view, the nonimmigrant's personal information is hidden, which gives more room on the page without having to use the scroll bar.
To view additional nonimmigrant's personal information, click the green, expand icon to open the section, if available.