Initiate Transfer of F-1 SEVIS Record
Before transferring an F-1 SEVIS student record to another school, read the Manage Transfer of F-1 SEVIS Record article. The article covers the whole F-1 record transfer process from start to finish.
The Transfer Release Date cannot be more than 60 days after the Program End Date.
Transfer F-1 Student to another School
To transfer an F-1 student to a new school:
Navigate to the Student Information page.
2. Click Transfer Out. The Transfer Out page opens.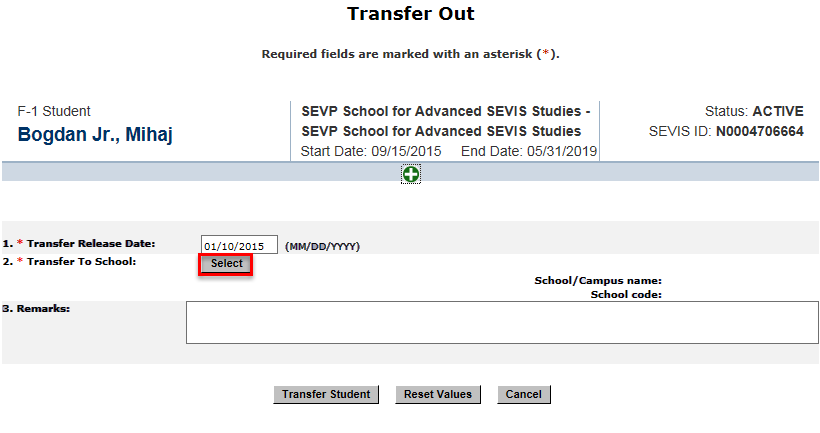 3.Enter the Transfer Release Date.
4.Click Select, to search for the transfer-to school and campus. The School/ Campus Search page opens.

5. Click either the School Name or School Code radio button to search by school/campus name or code.
6. Click Search to find school/campus.
The School Name search allows a wildcard at the beginning and/or end of the name. If there is more than one school or campus that fits the search, it will return a list of choices.
The School Code search requires entry of a full, exact school code (see error message). When entered correctly, the school code will return one specific campus.


7. Click the School Code hyperlink to choose the correct school/campus. The Transfer Out page opens.
8. Enter any relevant remarks and click one of the following:
Transfer Student: Submits the transfer request. The Update Successful page opens. Click one of the following: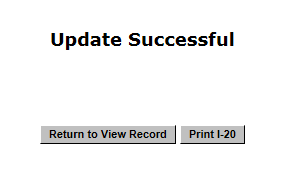 Return to View Record: Opens the Student Information page.
Print I-20: Prints student's Form I-20.
 Reset Values: Returns all fields to their original values.
 Cancel: Cancels the action and returns the user to the Student Information page.
See the SEVIS Help Icons on the SEVIS Help Hub for a quick-reference of the icons used in this user guide.