Study in the States Widgets
Add one of our widgets to your website to share Study in the States resources with your readers.
A widget is a small web application that you can easily embed on your own website or blog. This widget allows your visitors to access Study in the States when they visit your site.
To embed the widget, copy the HTML code below and then paste it into the desired location on your site.
Note: You may need to add ALLOW-FROM https://studyinthestates.dhs.gov/ to your X-Frame-Options to ensure users can select the links in the Study in the States widget.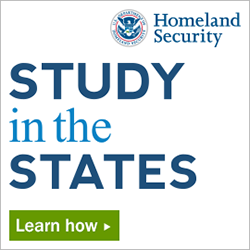 Disclaimer: No personal information from users is collected through the use of this widget. The use of this widget does not imply endorsement of any site by Study in the States or the U.S. Department of Homeland Security.